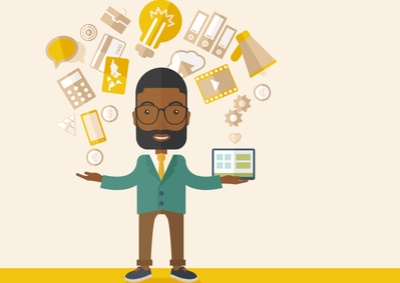 There are many benefits self-service models can have within your ERP systems – including faster response times and reduced infrastructure needs. Customer self-service has certainly become the standard in many B-to-C scenarios, starting with on-line ordering and payment and continuing with support and other functions. But why are so many mid-sized B-to-B companies still not taking advantage of this opportunity? Perhaps they just don't know where to begin.
Where to start? There are many different considerations. First, take a look at your business and its different functions. Where are the bottlenecks? Would customer, employee or business partner self-service help address and resolve them? Identify your top priorities and focus on one or two of them to start with. What are the pain points that are preventing you from doing a better job?
If you are ready to try implementing a self-service model to use with your ERP system, your mobile and remote employees may be the best place to start. For one thing, there is a growing appetite for self-service applications that are accessible through smart phones or other mobile devices, which increases constantly with more "digital natives" joining the workforce. This style of working is becoming exponentially more popular, and hence the management of such an environment will keep growing in complexity and scale, involving all of your company's stakeholders – i.e. customers, suppliers, and other business partners in addition to employees.
Before you begin, you will need to identify what type of information or transactions you would like to offer to stakeholders in this way. Consider starting with just one function, but one that features a lot of shared components in the architecture that could later be reused across more applications. This way, it will not need to be re-architected later if you decide to expand the platform to include more tasks. If you have some view of how that overall picture will look in the long run, you are better positioned to choose the right solution architecture while focusing on only the key functions you decided on as priority in the short run. Today's Cloud-based application platforms, such as the SAP Cloud Platform, offer standardized architectural frameworks and tools that facilitate the development and ongoing maintenance of such mobile applications.
The first application you choose could be something as simple as a purchase order for supplies, or something more complex and project based, such as time-coding. You then need to investigate ways in which you would actually get that information or series of transactions through to users. Would it be through a form? How will it look on a mobile device? Will the employee need to type in data, or make selections from a given set of choices? And finally, how will you maintain the security, now that this information is accessible through all these mobile devices? Would employees need to login using a password, or go to a specialized hosted environment?
Once your mobile workers are set up and using self-service applications successfully, the next area you may want to consider is your extended enterprise. This is when you would go beyond your employees, to your customers, suppliers and business partners. If done correctly and strategically, a self-service model in this capacity can be a real time-saver. There is often a great deal of manual activity maintaining those relationships – suppliers need a lot of ongoing communication so they can plan what is needed, and it can be a demanding task to keep that information flowing back and forth.
A self-service system could allow them to login and see for themselves what the demand forecast is for the things that are coming from your company and when they are likely to be required and approved. This could result in better planned processes, client satisfaction and cost savings – and you will both save time by reducing the need for as many update calls and meetings.
Service level agreements (SLAs) are often a good place to implement self-service applications. Typically, service managers hold regular meetings to go over reports. But what if the customer were able to go into the service level online and see how actual service compares with SLAs? That would save a lot of work for the service manager; the customer would have a better feel for actual service performance; and you would be giving them better service just by having this information available to them at any time, increasing their confidence.
Finally, no matter what route you choose to go with self service, it's important to remember that is not a one-size-fits-all solution. Different users (employees, clients, suppliers) will have different characteristics, environments and needs. In order for a self-service solution to work seamlessly, it has to be able to support a variety of people in all the different ways in which they need to interact with you.