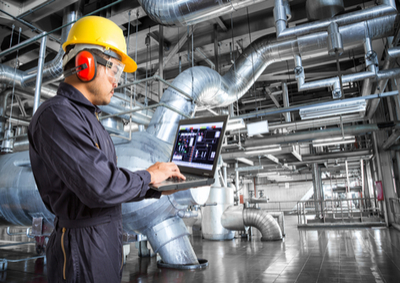 From predictive algorithms that drive efficiencies throughout your production process to networked-based sensors that increase safety for workers, applications of the Internet of Things have the potential to radically re-shape large aspects of manufacturing.
As the IoT extends its reach into more and more facets of manufacturing, firms are trying to find the most effective ways to realize the promise of IoT-driven efficiencies. Yet scaling IoT remains a challenge. A recent SAP-sponsored research paper showed that 39% of firms deploying the IoT are still in the proof-of-concept stage, and only 14% are currently running IoT solutions across multiple departments or sites.i
How and where do I start?
Incorporating the IoT into your operations can sound daunting, particularly if you're asking yourself:
Where do we start in knowing which sensors will work with our machines?

What kind of networking infrastructure will we need to increase our efficiency?

What kind of platform will we have to buy to interpret that data?
These are good questions. Indeed, they are the right ones to ask in starting out. And, like any journey, exploration leads to discovery.
Explore before discovering
The start of any innovation journey is predicated on achieving one overriding goal: to leverage the appropriate technology (most likely IoT) to address your business challenges which in many cases will result in an improvement of your plant's efficiency, considering challenges stemming in large part from disruption that is upending your industry.
Become an IoT explorer, in other words. And that can take a few different forms.
For example, you could dedicate resources to explore the IoT yourself, or partner with an external IoT implementation specialist. Either way, this critical explorer phase introduces you to new IoT technologies and shows how your competitors use these technologies to make their own plants more efficient.
Fit technologies to your challenges
Moving then into the discover phase helps you consider the best way to match those technologies with the business challenges you hope to overcome by applying them. The end goal here is to develop a customized IoT solution that fits your specific needs.
Some questions you might ask in this phase:
How are we managing the process today? What are the challenges we are experiencing? What is working well and what is not?

What specific goals (e.g., production and/or financial KPIs) are we trying to achieve?

How will IoT technologies help overcome those challenges?

What is our IoT implementation timeline?

What resource allocation (e.g., people, time and money) can we dedicate to employing those IoT technologies?
Three implementation options
Balancing what you're trying to achieve with the practicality of any given IoT solution takes time to sort out. Some mistakes are perhaps inevitable. But you can minimize errors and maximize the efficacy of your IoT solution by considering three implementation options in plotting a course forward.
1) Embedded solutions … You can embed IoT capabilities into your existing ERP by working with a trusted ERP implementation partner. Some "out of the box" solutions can be readily adapted to a variety of circumstances, setting you up quickly to monitor and maintain your machines through a networked system.
2) Accelerators … Some plant engineers know which IoT technologies they want to employ but are challenged in trying to scale them up. Firms such as SAP can package a factory-wide IoT solution comprising the right infrastructure, platform, algorithms, machine learning sensors, messaging to the sensors, and wearable devices. This accelerator approach delivers a broad range of targeted efficiencies across your plant operations.
3) Design-led innovation … You've learned about IoT technologies in the discover phase, but you don't know how to leverage them. What you do know, however, is you'd much rather be the disruptor than the disrupted. In this case, design-led innovation might be the best approach. An IoT solutions partner works with your organization to help determine your business challenges, prioritize and validate those challenges, and then brainstorm with a broader group in designing an IoT solution that aligns with your specific challenges, goals and resources. This is open-ended innovation, which you can then implement.
The central role of your ERP
Don't lose sight of your ERP in all of this, because your ERP is not just a financial system where you monitor and track costs and efficiencies. It's also a place where you manage and maintain your plant equipment and your machinery: it's your company's backend. Therefore, integrating IoT solutions into your ERP is critical to monitoring the cost savings you're generating through your IoT solution.
We all know that data on its own is useless. But with the IoT, you're collecting a range of data from sensors that you can interpret and act upon. For example, sensor data may show that a machine has been waiting for raw materials that haven't arrived. Or that it's been down for too long.
In some cases your IoT solution will act by itself. For instance, data fed through your ERP from a machine can automatically trigger a work or service order to fix that machine before it breaks down. So, by integrating the IoT into your ERP you can proactively see and solve problems.
A clear path to greater efficiencies and improved safety
When you start considering new technologies for your plant, the sky's the limit as to what you can do with them at a later stage. That's all part of the journey.
By keeping key questions and implementation options in mind along the way, you can dramatically increase your plant's efficiency and improve safety through the Internet of Things.