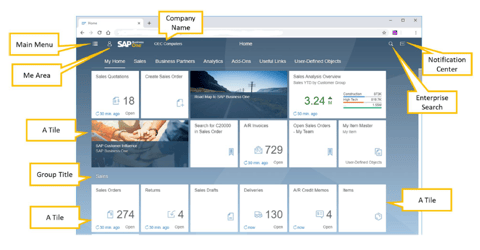 SAP Business One Version 10 Web Client is a new, highly anticipated feature of the popular, industry-leading business management software. Here are a few of the details we believe will be beneficial to your organization.
A New Look
SAP continually delivers state-of-the-art user experiences, and this continues to be true with its Web Client which is now focused more on simplifying the user interface similar to that used in SAP Fiori and SAP UI5 design principles. Users can now customize the interface, without too much training, and access it from multiple types of devices.
And to continue with providing a more optimized user experience, access SAP Business One's Web Client is now provided through web browsers including Google Chrome, Mozilla Firefox, and Apple Safari (Mac and iPad).
What's Included?
The Web Client covers several different features within SAP Business One:
A user-specific login page and homepage screen.
For sales-specific actions, users now have the ability to create quotations and orders, and access analytics and key reports.
Business partner records are also included, complementing items and the item catalogue. Users are now able to access calendars and schedule activities directly from the Web Client. Additional tools to help manage deliveries and returns from within the browser have also been added.
User Activities
Web Client maintains a dynamic list of the 30 recent functions a user has used, and the 30 functions they use more frequently. The two lists are available in the "Me Area," and the setting in this section allows users to deactivate this function. In addition, users can clear their usage history in Web Client by choosing the "Clear" button.
What's the Future Hold?
There are a host of planned innovations for Web Client, and these include the following features:
Extend business logic coverage

Extended sales and purchasing coverage
Sales opportunity
Service call
Payments support
Analytics, reporting, and printing

Extended analytics
Additional reporting content
Design capabilities
Support printing
Integration and extensibility

Providing extensibility capabilities
The feature values include:
Extended target audience by supporting Microsoft SQL customers and providing increased functional coverage
Extending market coverage
Increased competitiveness
Increased efficiency and productivity
Reduction of TCO
To learn more and to view a host of scenario videos that will help guide you around SAP Business One Web Client, please visit learnbusinessonewebclient.com/.
And if you're Interesting and ready to discover more about SAP Business One Version 10, please feel to contact me.
Thank you for taking the time to read.