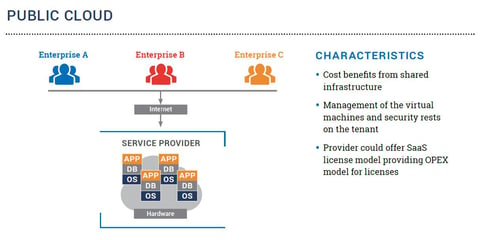 In my previous post, I wrote about the increasingly popular trend for organizations to use Cloud ERP solutions in an effort to reduce costs and ensure scalability. However, as I mentioned, cloud ERP decisions can be complicated, and it's important to understand all of the options before jumping ahead with a cloud solution. In addition to determining whether to go with an on-premise, hybrid or fully cloud solution (see previous post) - it's also important to understand whether the proposed solution uses single tenant or a multi-tenant environment and whether to go with a public or private cloud platform.
Single-tenant versus Multi-tenant
Single-tenant environment: Under this model, each business using the cloud application has an independent environment in which the application is run. This means that the business is allocated a computing environment in the cloud, which is sized to support the level of performance required by the business without any dependency on the needs of other businesses. It also means that access to the computing environment can be limited to the business itself and that software customizations, upgrades and system maintenance needs are determined solely based on the needs of the single business in question.
Multi-tenant environment: Under this model, a number of different businesses share one cloud-based computing environment and access the same copy of the cloud application software, while each business has access only to its own private data. This can be useful for companies that want a cost-effective solution that can be implemented quickly and requires fewer customizations.
Public vs. Private cloud platforms
When it comes to the type of cloud platform in which the ERP solution is hosted, it is important to differentiate between public and private cloud.
Public cloud platform: Public cloud platforms provide a common architecture that can be used to support an ERP system, in addition to other software and services. This includes computing hardware, storage devices, operating system and other software, comprising shared infrastructure that is used by multiple customers of the cloud service provider. For example, Microsoft, Google and Amazon have each developed a public cloud platform that can be used to deploy any type of software, including ERP solutions. Benefits of a public cloud platform include the ability to easily bring entire application environments up or down and to pay only for actual usage, as well as the ability to change the amount of resources allocated as demand levels change, so that adequate performance can be provided at the minimum cost. Public cloud platforms may also provide built-in integration with various commonly used cloud services and applications. A disadvantage of a public cloud platform is the fact that it is shared among many different companies, so a business usually has no control over the management of the platform and may have no control over the physical location of its private data. Multi-tenant cloud solutions such as SAP's Business ByDesign ERP solution and SuccessFactors Human Resources Management solution utilize a public cloud platform provided by SAP.
Private cloud platform: Under this model, cloud service providers offer a computing environment, including hardware, storage devices, operating systems and other software, that is dedicated exclusively to the use of one customer. An advantage of private cloud platforms is that they enable businesses to benefit from computing services managed to strict security and availability standards, at predictable cost levels and without relinquishing control over their IT environment or having to share it with others. Private cloud platforms can be used to enable businesses to run software designed for on-premises use in the cloud. They are also typically used with single-tenant cloud applications. Prices may, however, be somewhat higher, as each environment is dedicated to a single customer so that the economies of scale possible with public cloud platforms are not achievable here. For example, private cloud implementations include many of Illumiti's customers who run SAP Business All-in-One as their ERP platform, hosted in private cloud environments provided by Sungard Availability Services.
For more information on Cloud ERP, please check out our new thought leadership paper Cloud ERP for Asset Intensive Industries.