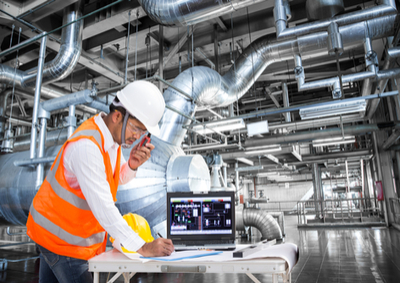 What does the Internet of Things mean for manufacturing?
Forecasts of IoT usage illustrate its profound growth within manufacturing settings.
According to IDC, IoT spending will experience a compound annual growth rate (CAGR) of 13.6% from 2017 to 2022, and reach US$1.2 trillion in 2022. In terms of total spending, IDC predicts discrete manufacturing and transportation will each exceed US$150 billion in spending in 2022, making these the two largest industries for IoT spending.
These are huge numbers, but we aren't there yet. In my experience speaking with plant engineers, their uptake on IoT capabilities is rather low.
That has to change. And quickly.
The disruption dynamic
Many plants run smoothly enough, so the impetus to change may not be a clear and present concern. But have you leveraged new technologies in your plant to foster growth?
Technology investment decisions can be challenging. However, now's the time to make them, because while some firms aren't doing so, many are. And the gaps between those investing in IoT capabilities and those still thinking about it are growing rapidly.
Think of the disruptors – firms competing without much of the costly infrastructure or legacy IT systems of their older competitors. They leverage new technologies in novel and efficient ways, creating value throughout their respective supply chains and separating themselves from the pack.
Disruptors are edging out more established competitors, in other words, and potentially taking your market share in so doing. Indeed, when it comes to the Internet of Things, disruption damages companies that have not embraced the imperatives manifest in that disruption.
Three IoT efficiency examples
Companies yet to take their first steps towards the brave new world of the Internet of Things need to start somewhere. The following concrete examples help paint a picture of the efficiencies that could lie ahead.
1) Relaying data among machines
By adding sensors to every machine – and then connecting those sensors to a centralized ERP – you are digitally connecting your entire plant. So, instead of acting like silos, these connected machines now form a smart network that plant engineers can monitor and manage with never-before seen precision and timeliness.
For instance, they can monitor the behavior and/or production flow of any given machine within their newly connected network. This helps identify and drive targeted efficiencies.
2) Predict to prevent
That same data – channeled through an ERP – can be reviewed onsite and/or shared with OEMs to predict any required machine maintenance. This data could be part of an analytics-based report or embedded in an algorithm employed to predict when a piece of machinery may break.
For example, an IoT sensor sends data to your ERP, which then interprets that data based on established safety thresholds. Think of a fan belt. Data from a sensor could be used to determine if that fan belt is about to break, in which case an alarm is relayed to the operator through a wearable device of some kind.
These real-time data connections can prevent potential harm to a team member, and reduce the number of maintenance-related safety issues within your plant.
3) Enhanced inventory management and quality control
Your machines are running at full capacity and you need to know exactly when new materials will arrive. Time is money.
Sensors on in-coming shipping vehicles can give you that precise information with which to plan your production uptime much more efficiently, thereby increasingly productivity and decreasing downtime.
Similarly, sensors on forklifts can feed you useful inventory management data. When coupled with shipping vehicle sensors and in-plant monitors on your machines, you have real-time visibility of how things are moving into, across, and out of your plant.
At the same time, you can enhance the quality control of finished goods before they leave the plant. Sensors embedded into the products themselves can "speak" to machines and plant operators with data on the quality – and not just the quantity – of the goods before they are shipped out.
These and other efficiency benefits are possible through the IoT. For manufacturing professionals, it's time to fully embrace the Internet of Things.