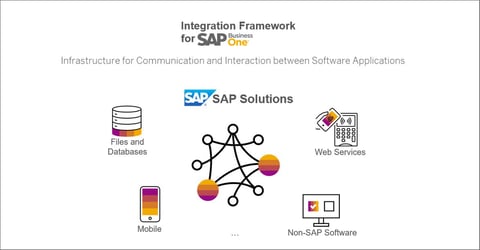 Social and physical distancing has never brought us closer.
A new age of business is upon us. Brought on by unforeseen conditions of self isolation, people and businesses are collectively shifting how they communicate; creating a significant tectonic plate shift and giving way to new ways to market and connect with customer.
As a leading technology solutions provider, we are constantly serving our customers' needs to ensure they are more intelligent and smarter in the way they run their businesses—it's the inevitable consequence we are witnessing now as digital transformations happen all around us, regardless of the industry. And regardless of a company's size.
Small and mid-sized enterprises (SMEs) must be open to this transformation, which is accompanied by changing behaviours, as their customers become much more informed and demanding.
Digital business means being enabled by analytics, data, cloud and mobile technologies. Digital business means being accelerated by the Internet of Things (IoT), advances in machine learning, and emerging and exponential technologies.
SAP Business One can form the digital core of your SME, especially one that is eager to join countless others who are now known as intelligent enterprises who are integrating and automating vital business functions: sales, operations, inventory management, production, project management, accounting, administration and more.
What is the B1iF?
There's more to B1iF than you might expect.
The SAP Business One integration framework (B1iF) connects Business One with other applications, services, and devices allowing businesses to connect themselves to a host of others, like vendors, subsidiaries, shared service centres and so many others—it enables the automation of business processes and exchange of data between Business One and other SAP system.
It also integrates non-SAP systems, web- and cloud-based applications, and services using established integration standards, includes an IoT programming model, and is optimized for cloud computing.
If you want to integrate SAP Business One with your website, B1iF supports both SOAP-based Web Services and HTTP/RESTful web services.
Some of the highlights
Automation of tasks and processes in SAP
Integration between SAP databases:

Headquarter to subsidiary organizations
Intercompany transactions automation
Master data management

Integration between third-party solutions:

Ecommerce
Industry specific solutions:

Quoting tools
Point of Sales systems
Manufacturing systems
Credit card terminals

Web services:

Exchange rate capture
Shipping courier
Learning management systems
Payroll systems


The technology
For data exchange in Business One, two interfaces, so called Application Programming Interfaces (APIs), are present in the system. These are the interfaces of an open and flexible enterprise resource planning (ERP) system that best enhance your company processes:
SAP HANA Service Layer API Technology; available for all SAP Business One HANA customers and SQL customers on version 10.0 PL1 and higher.

The next generation API for the digital business allowing you to create lightweight mobile apps consuming SAP Business One data and services using open core protocols such as HTTP and ODATA. This technology is only available for SAP Business One, version for SAP HANA.
SAP Business One DI API


The DI API contains objects and methods that enable developers to read, write, update, and remove data objects on database level. This DI API is available for SAP Business One on MS SQL, too.
What are the benefits?
There are several key advantages to using the integration framework as part of your business processes:
B1iF is an SAP product and specifically designed to integrate with SAP Business One
With real-time integration, you can make faster, more intelligent business decisions
Eliminate manual, repetitive tasks by automating them
Quick development of proof of concept solutions, and easily update and modify scenarios—there is no need for comping and installing updates for every change
A single connection point between two systems to exchange data but unlimited integration scenarios:

Ecommerce:

Connection between SAP and Ecommerce is a single connection, with possible scenarios including:

Item Master Data pushes from SAP to Ecommerce
Creation of BP master data in SAP when a customer signs up for Ecommerce
Orders created in Ecommerce come into SAP with payment and reconciliation
Delivery from SAP updates Ecommerce and sends the customer a delivery notification
The Integration scenarios seamlessly upgrade when your organization goes through an SAP upgrade. And there is no requirement to rebuild or implement costly third-party integration software upgrades either.
The company you keep
Here are just a few of the many customers we serve that are actively using B1if in their everyday businesses:
Shopify
Magento
Wayfair
AutoQuotes
FocusedImpressions
Bank of Canada
Fusebill
Mobile Application
Google Location Services
In this ever-evolving era of digitization, companies need to become more automated, more intelligent, and more connected. And to meet the challenges associated with connecting various software systems, mobile applications, and so many other elements, SMEs can look to SAP Business One for the answers. After all, business integration is an absolute necessity and foundational to success in this era.
For more information, please visit SAP.
To learn more about our response to the COVID-19 pandemic, please read our recent post, "Business Continuity As We Navigate Through COVID-19."
With the rapidly evolving changes to our economy, the need for technology has become more important than ever. Small businesses, in particular, need to rewrite their blueprints, as timing is of great essence. Contact an Illumiti SAP Business One Practice Expert to help your business move to being an intelligent enterprise.